One very lucky Aussie won a $1 million second prize on Wednesday 19 October 2016 playing US Powerball online with theLotter! Our lucky winner wishes to go by 'G.' to protect his privacy, which of course, we're more than happy to do. However, we've dubbed him 'the Wonder from Down Under!'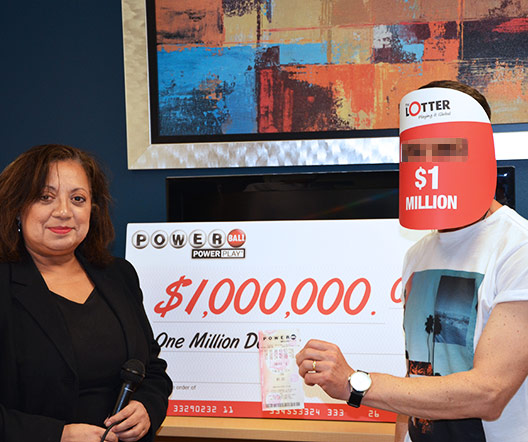 The Phone Call We All Want to Get
It's not every day we get to surprise someone with the news that they've won a $1 million but that's exactly what happened when we got G. on the phone! Surprise, disbelief, joy, it's all there in this incredible phone call as our lucky winner learns his life has changed in an instant!
A Winning Commitment
While Luck comes quickly to some players, G.'s incredible $1 million win was years in the making. In fact, G.'s change of fortune was possible simply because he had the persistence and faith to keep playing to make his dreams come true. His advice to other players: 'Just keep your faith. Never doubt yourself and keep your faith, that's the only thing that you can do.' There you have it, straight from the $1 million man himself!
Good Great Things Come to Those Who Wait!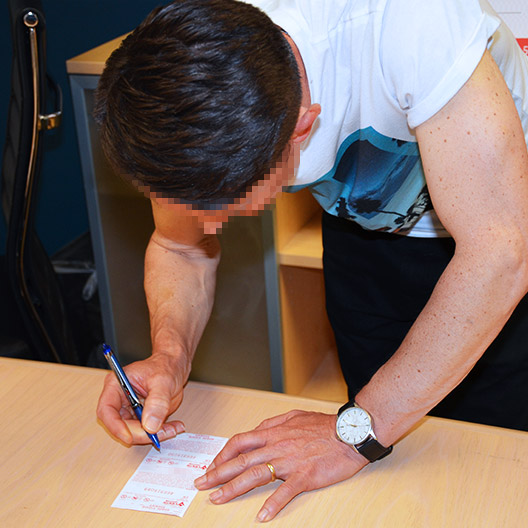 G. has been playing with theLotter since he discovered our 'convenient and easy to use' service in 2003. He has had 452 wins over the years, including AUD$325 in Germany Lotto and AUD$115 in Swiss Lotto. G. enjoys playing a la carte; buying single entries to a variety of lotteries, but favouring frequent jackpot heavy weights US Powerball and Mega Millions. G. prefers to play random numbers, although he has played lucky numbers in the past.
Powerball Fortune Found in Florida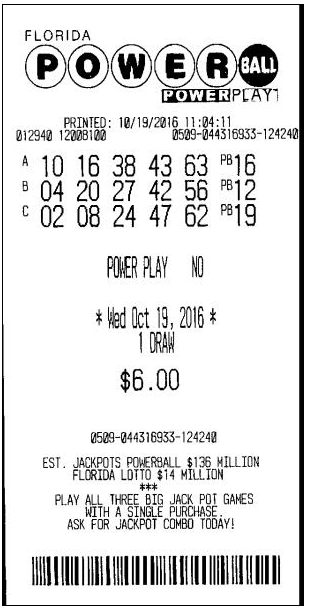 As you can see from G.'s ticket above, and yes that really is his ticket, he correctly chose all five main numbers to win US Powerball's amazing $1 million second prize in draw 2016/84 that took place on Wednesday 19 October 2016. After taxes, G. took home AUD$937,758 or about $700,000. His winning numbers were 10-16-38-43-63 and Powerball 16. The winning numbers for the jackpot, which no one won, were 10-16-38-43-63 and Powerball 23. G. was the only second prize winner of the draw.
theLotter Brings US Powerball to the World
G. is the third player to win $1 million playing US Powerball with theLotter in 2016 and the fourth ever. B.U from the U.K was the first to win $1 million in 2012 playing US Powerball with theLotter. H.V. from El Salvador won $1 million in the historic 13 January 2016 draw that saw the record $1.59 billion jackpot won and P. from Quebec won $1 million in February 2016 by continuing to play US Powerball with theLotter after January's jackpot mania subsided.
G. is the first Australian player from theLotter to win $1 million playing US Powerball and proof that it doesn't matter what country, continent, or hemisphere you live in: you can win the world's largest and most exciting jackpots from wherever you live! It's interesting that G. won his prize playing Powerball, when he could be playing the best Australian lotteries. But then, theLotter enables players to play their favorite lotteries all over the world!
US Powerball Jackpot World's Top Prize
The US Powerball jackpot starts at $40 million, has reached $1.58 billion, an all-time lottery record, and is frequently the largest jackpot in the world! What's more, the second place prize is always a life changing $1 million. However, choose the Powerplay option to double the second place prize and multiply other prizes by up to ten times!
If you want a chance to win $1 million like G., or the jackpot of at least $40 million, play US Powerball online now! It could be you on our winner's page next!